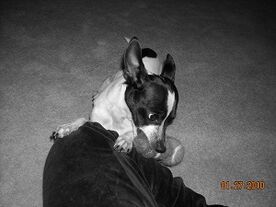 Rankin The Dog is Cameron's 2nd Pet after Romeo The Fish Died. He is the dog that has the non famous Joe Mama scream! Currently, Cameron owns a Morkie dog named Leo.
It all started in 2008. Cameron wanted a dog cause he was afraid burglars were out in the neighborhood. So he went to find one. He saw a black and white Jack Russel chihuahua mixed dog jumping at his cage. He saw another, but he got the one jumping first. He named it Rankin and bought him. He was in a cage cause he wasn't potty trained.
Cameron Waycaster
Microsoft Mike
Rankin's voice is Millard, AKA Big Fat Jolly Man, which first had the voice. Cam was tired of Millard being goofy, so he transferred the voice to his dog.
Cameron does not own Rankin anymore of December 2013. He gave it to a man in his 50's because he wanted a dog to comfort him. It is unknown if he is dead or alive.
Cameron got Rankin back in February 2015, but had to give him away forever in April 2015.
Community content is available under
CC-BY-SA
unless otherwise noted.